Easy style and comfort are the hallmarks of this shoe style.  Cute with any casual look-from jeans to skirts and anything in between. 
A Mandala is featured on this design.  Loosely translated as "circle," mandalas are said to represent the universe. A mandala is designed to offer a visual balance of elements that symbolize harmony and unity. When used in a spiritual practice, the mandala is said to help absorb the mind in meditation.
As you may have noticed, a mandala can come in an innumerable variety of designs, patterns, and colors. If you look closely, you'll see the mandala represented in so many aspects of your own life – the concentric circles in the patterns of nature, and even the circles of life, friends, and family.
Our My Yoga Essentials mandala is designed to incorporate the seven chakras in concentric circles, or wheels.  After all, the word chakra means wheel, each of which, in yogic symbolism, represent the spinning energy centers of our being.  The chakra symbols each have their own color, name, location, mantra and element.  Read the more about the "chakras" in our blog and see if you can recognize them in our mandala!  You may even want to count the outer "petals" of each ring.
>>These items coordinate beautifully<<
Note 1: If you are unsure of what size to order or you wear a half size not listed below, please choose to order the next size up to ensure a proper fit.  
Note 2: Please allow 3-7 days to receive a tracking number while your order is hand-crafted, packaged and shipped from our facility. Estimated shipping time is 7-10 days.
Product Description:
All of our shoes are custom-made-to-order and handcrafted to the highest quality standards.
Elastic stretch V for easy on-and-off use.
Soft textile lining with lightweight construction for maximum comfort
High quality canvas construction for everyday use and durable EVA outsole for exceptional traction
Sizing: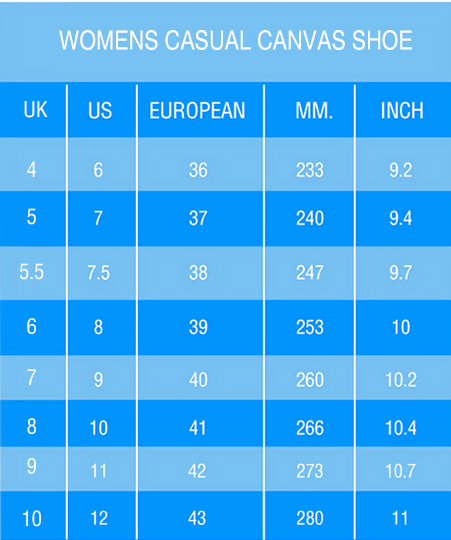 Customer Reviews
23 December 2019
Adele H.
I like the design
The design is good, but the shoe is really light weight so I'm not sure how well it will hold up. Even so, it seems like it is put together really well, and is actually really comfortable. I was a little disappointed when I got them because they seemed flimsy, but not that I've worn them several times, I am surprised that they are as comfortable as they are-and I'm pretty skeptical because I've had plantar fascitis and tend to stay away from shoes like this. So I ran the emotional scale of being really excited about the design, to being bummed about the perceived quality, and now I've landed back in the "happy" category because they surprised me in a good way as far as comfort, with a decent footbed. And after a week long vacation wearing most days, they look good as new. Size is generous. I wear a half size, so I went up. Probably could have gone down, but I don't mind the extra room since this is a warm weather shoe, and I'd rather have a little room for my feet to breathe.