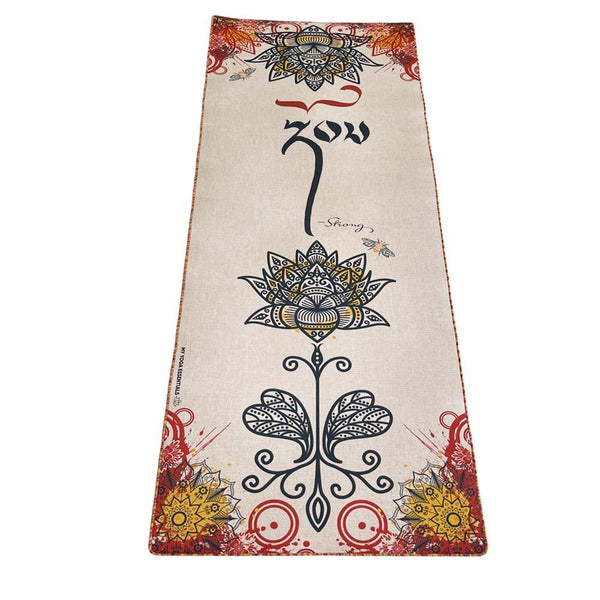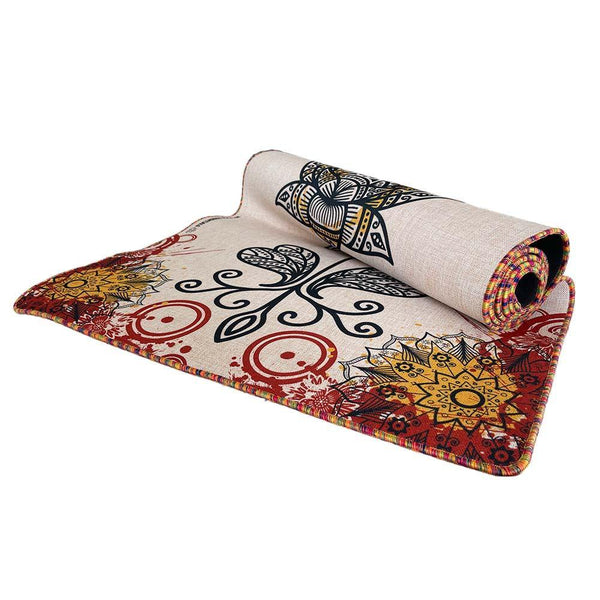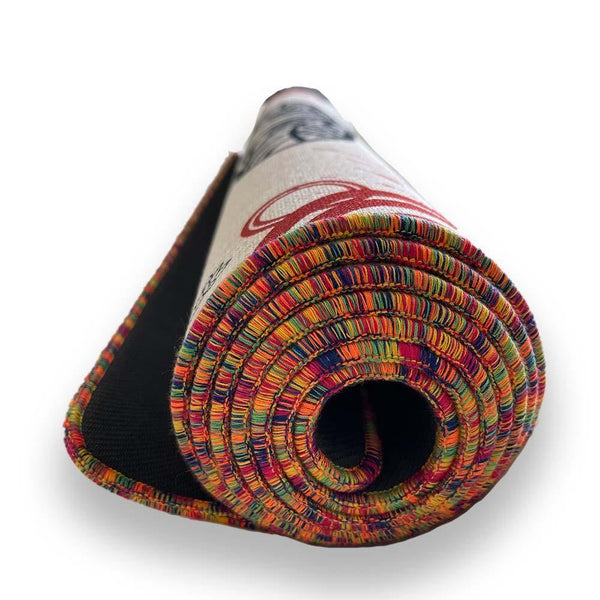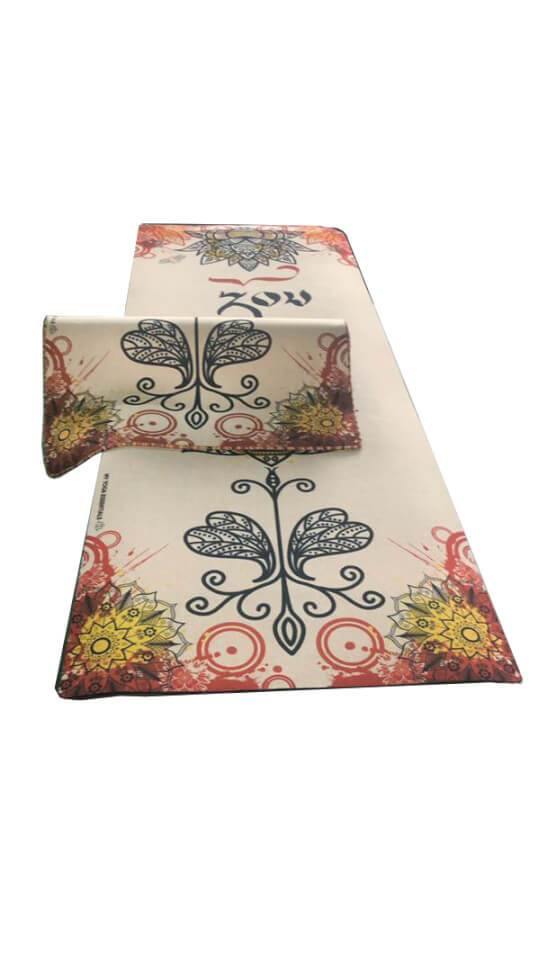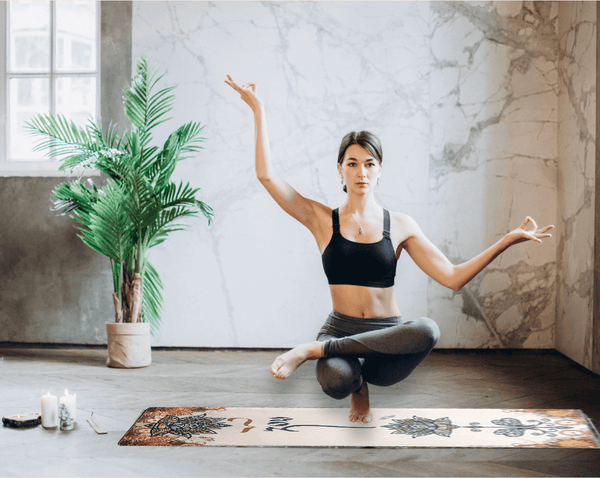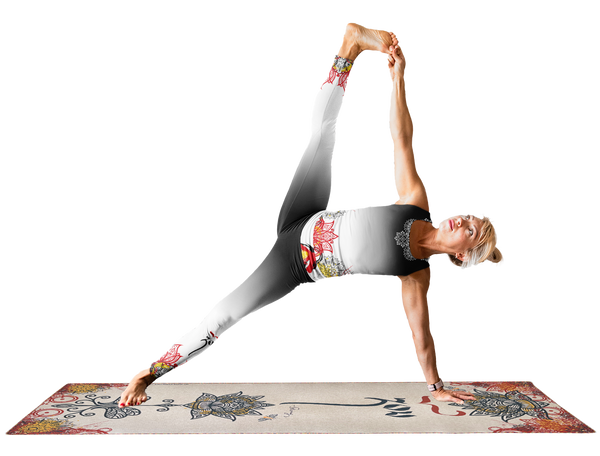 Hemp Linen and Natural Rubber Yoga Mat - "Strong"
These feel as good as they look!  All natural materials and eco-friendly manufacturing process means this mat is good for your practice, and for our earth.  It is bound in a colorful sewn edge.  At 5 mm thick, it is suitable for all practices but especially comfortable for more still forms of practice such as yin or restorative.  The linen top may initially have less "stick" than some other options, but after a handful of uses the linen will relax, achieving its "grippy-ness".  Read more about these sustainable mats below in "Product Information".
About our Designs
Part of our "Graffiti" series (see tab below), this design features the Sanskrit symbol for "strong", and reflects the bold palette of black, white, red and yellow.  These colors to reflect the foundation for personal power and strength - physical, emotional and spiritual.  Red is the color of the root chakra, Muladhara, and is the grounding energy.  Yellow is the color of Manipura, the solar plexus chakra.  Located just below the heart, this is where you find your strength and fire!  It governs self-esteem, confidence and personal identity as well as purpose and self motivation.  When our interactions come from a place of strength, we can be more effective in our communications and relationships with others, too.
Hidden within the graffiti of this design are many interpretations of the lotus flower.  Some are open and inviting.  Others are fiery and bold.  The lotus shows perseverance and strength - just by showing off its beautiful blooms.  Lotus flowers lead difficult journeys. Their seeds sprout in murky swamp water, thick with dirt and debris and snarls of roots. For a lotus to bloom, it must forge its way through darkness, avoid being eaten by fish and insects, and keep pressing toward the sunlight somewhere above the water's surface.  When it emerges unscathed by the journey, it blooms.  Many of us are on a similar personal journey from the grounding mud to triumphantly breaking the surface to be bathed in the light. Stay strong.  Stay on your journey!  

Product Information
We are proud to offer durable and eco-friendly products.  They start with a base of natural rubber from Hevea rubber trees.  The rubber is collected  in a sustainable manner, not harming the trees and allowing them to mature and continue to produce the milky latex within the bark.  While natural rubber (latex) may cause allergic reactions for some (Try our TPE mats as an alternative!), rubber is non-toxic, non-slip/skid, waterproof, stain resistant, durable, has excellent flexibility and cushioning, and is recyclable.  And because natural rubber is sticky when heated, our manufacturing process takes advantage of this to combine many types of surface layers WITHOUT the use of chemical adhesives. 
For our Hemp Linen top layer, we use a blend of hemp and linen (called flax), both sustainable and renewable.  These fibers are strong and smooth but become softer and more supple with use.  These fibers absorb moisture, are cool in summer and warming in winter, have antibacterial properties, are insect resistant, biodegradable and do not fade.
At 5 mm thick, these mats have a bit of "give" for comfort but are dense enough to ground and stabilize you during your practice.  They roll out and stay flat-no bunching or curling.

Our mats contain zero PVC's or harmful chemicals and are 100% recyclable.
Our Graffiti Series 
Graffiti is an expression of the creator.  It can be bold, colorful, express passion, and convey deep held beliefs.  It can just be plain fun and whimsical.  It is a unique expression of how we see the world.
Graffiti itself is not a new phenomenon, or even unique to the United States urban landscape.  In fact, Ancient graffiti in cultures and regions as diverse as Egypt, Syria, Turkey, Greece, Rome, Norway, Ireland and Guatemala displayed phrases of love declarations, political ideals, and simple words of thought.  This is not so different from the need to express today's popular messages of social and political ideals.
Product Dimensions
183cm x 68cm x .5cm
Care Guide
Gently clean dirty areas with a damp towel, paying attention not to use too much water.  To remove stubborn stains, use a toothbrush and a small amount of diluted laundry detergent and gently work in a circular motion, then rinse or wipe away with a clean wet towel.  Lay flat to air dry, out of direct sunlight.
If needed, this mat may be dry cleaned.
Do not expose it to the sun for extended periods of time.
Do not immerse or leave water pooling on the surface for extended periods of time.
When storing, roll with the linen surface facing out.
Do not keep mat close to a heat source for a long period of time to prevent rubber aging and adhesion.
Your rubber mat may initially have a little smell.  This is the smell of natural rubber, and is eco-friendly and non-toxic.  If you are sensitive, please lay the mat flat for a period of time before using.