The large capacity bag is perfect for carrying your premium mat, blocks and extras with you.  Heavy duty cotton canvas is waterproof, and lined with nylon.  Two handy pockets, one inside and one out.  Heavy duty zippers and hardware on the handles makes this a beautiful and durable choice.
Product Specifications:
Size: 27" x 7" x 8"in.  Water Repellent 100% cotton canvas exterior, with a polyester lining. 
Pattern:  This "Paisley" pattern is comprised of jewel tones (ruby, amethyst, sapphire, topaz, jade) on a creamy background. 
Customer Reviews
21 July 2021
Susan M.

United States
Wow! What a mat bag!!!!
I just received my new large capacity yoga mat bag. I love the print, The strong comfortable handles, sturdy zipper and most of all how much room the bag has to offer.
21 July 2021
My Yoga Essentials
Thank you for your kind review. We are so pleased you love your new yoga bag!
24 April 2021
Sandra P.

United States
Nice and Roomy
Although I haven't really used it yet, I did put my new Fiber Mat in it and there is plenty of room for additional items, which is great. It is very sturdy as well. I like it.
24 April 2021
My Yoga Essentials
We greatly appreciate your review and are so happy you love your new yoga bag!
20 April 2021
M

United States
Big enough for EVERYTHING
Everything I had hoped for. I've been looking for a big bag, and when I saw these I ordered right away. It arrived super fast! This bag can carry two of my full size mats plus blocks and a towel. It is made with really sturdy stitching, zippers and handles, so I am impressed so far. Plus is it just really cute.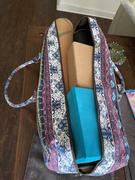 20 April 2021
My Yoga Essentials
It's always fun when you find what you've been looking for. Glad we could help!