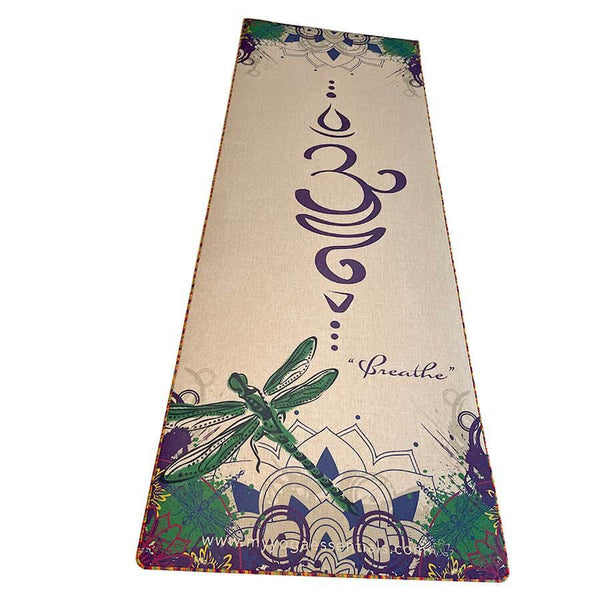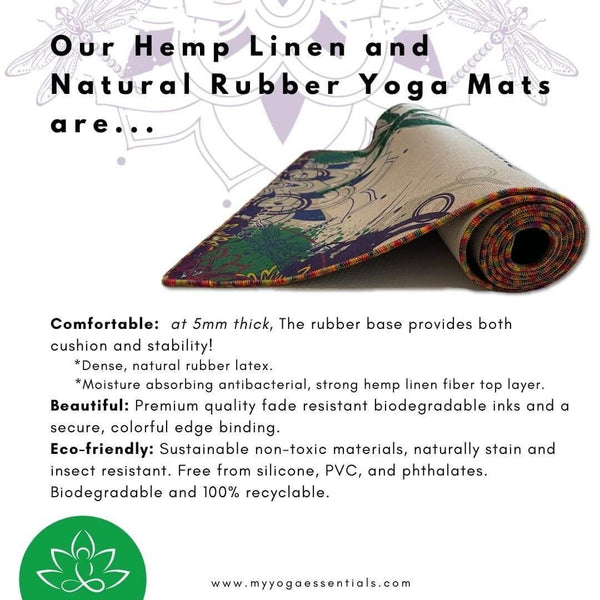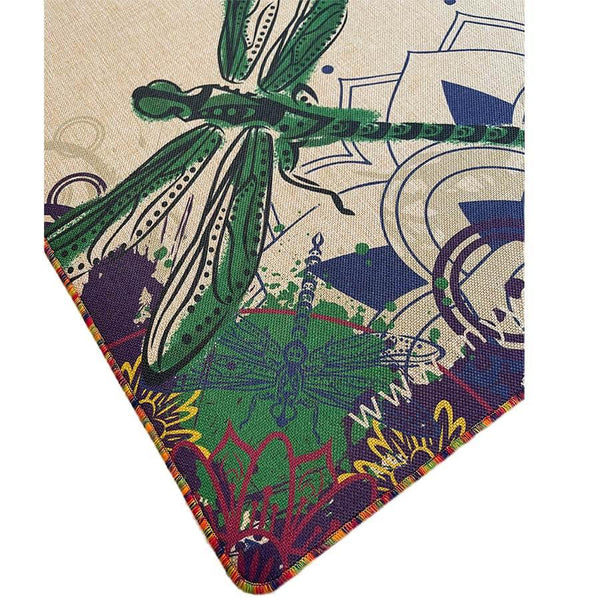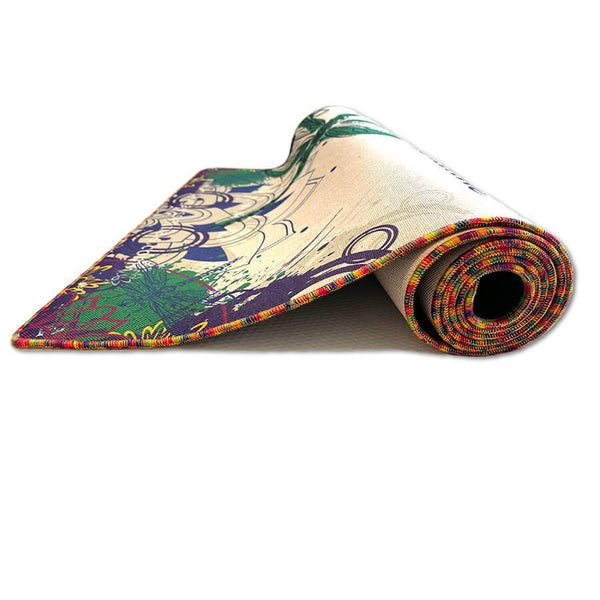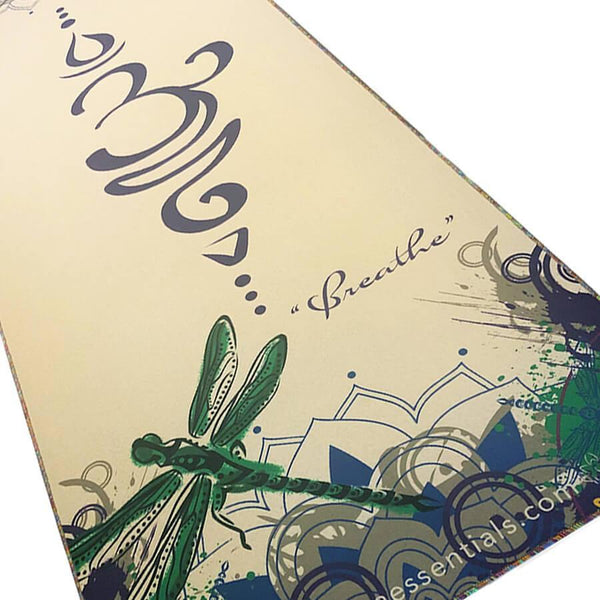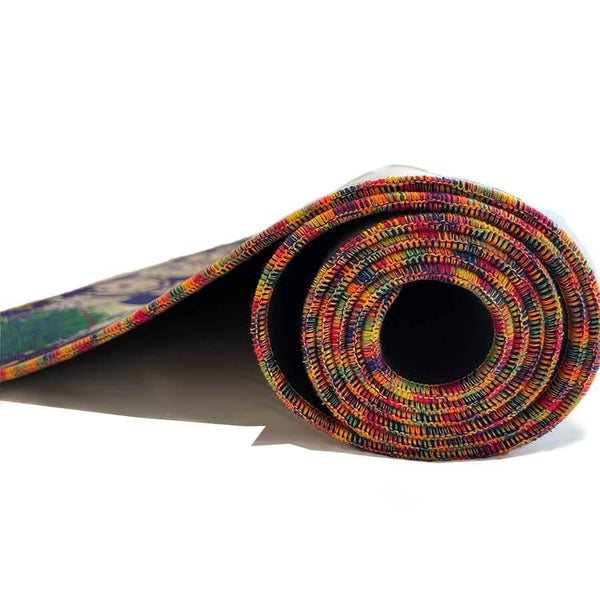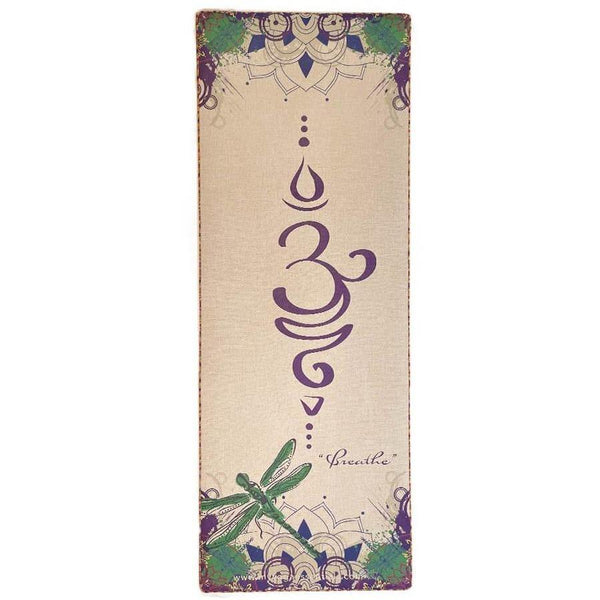 Luxury Hemp Linen and Natural Rubber Yoga Mat - Breathe
These feel as good as they look!

This beautiful yoga mat is truly a luxury.  All natural materials and eco-friendly manufacturing process (no chemical adhesives) means this mat is good for your practice, and for our earth.  It is bound in a colorful sewn edge.  At 5 mm thick, it is suitable for all practices but especially comfortable for more still forms of practices such as yin or restorative.  The linen top may initially have less "stick" than some other options, but after a handful of uses the linen will relax, achieving its "grippy-ness". 
We love these mats and are proud to offer durable and eco-friendly products. Our mats contain zero PVC's or harmful chemicals and are 100% recyclable.  Read more about these sustainable mats below in "Product Information".

About our Designs
Part of our "Graffiti" series (more info in the tab below), this mat features the Sanskrit symbol for "breathe", and reflects the cool colors of the higher chakras.  The greens, blues and purple compel us to draw on our compassion, voice, mind and spirit.
"Breathe." The word is so powerful and relevant right now.  Breathing is the first thing we do when we enter this world, and the last thing we do when we leave it.  In yoga, we call it "prana", or life force.  This word can conjure up feelings of peace and personal power as readily as it can conjure up the fear of illness or the tragedy of injustice and inequality right in our home communities.  Whatever feelings the word "breathe" conjures for you, we all breathe the same air.  Our breath can calm the storms that loom for each of us personally and collectively.  Together we can light the way to a future that recognizes and respects our own, as well as the unique contributions, colorful expressions and beliefs of all our neighbors.
Product Information
We love these mats and are proud to offer durable and eco-friendly products.  They start with a base of natural rubber from the best Hevea rubber trees.  The rubber is collected (tapped) in a sustainable manner, not harming the trees and allowing them to mature and continue to produce the milky latex within the latex vessels in the bark.  While natural rubber (latex) may cause allergic reactions for some (Try our TPE mats as an alternative!), rubber is non-toxic, non-slip/skid, waterproof, stain resistant, durable, has excellent flexibility and cushioning, and is recyclable.  And because natural rubber is sticky when heated, our manufacturing process takes advantage of this physical feature to combine many types of surface layers WITHOUT the use of chemical adhesives. 
For our Hemp Linen top layer, we use a blend of hemp and linen (called flax), which are both sustainable and renewable.  These fibers are strong and smooth but become softer and more supple with use.  These fibers absorb moisture, are cool in summer and warming in winter, have antibacterial properties, are insect resistant, are biodegradable and do not fade.
At 5 mm thick, our linen topped rubber mats have a bit of "give" for comfort but are dense enough to ground and stabilize you during your practice.  These mats roll out and stay flat-no bunching or curling.

 Our mats contain zero PVC's or harmful chemicals and are 100% recyclable.


Our Graffiti Series: 
Graffiti is a true expression of the creator.  It can be bold, colorful, express passion, and convey deep held beliefs.  It can just be plain fun and whimsical.  It is a unique expression of how we see the world.
Although modern graffiti has been associated with vandalism or violence, graffiti itself is not a new phenomenon, or even unique to the United States urban landscape.  In fact, Ancient graffiti in cultures and regions as diverse as Egypt, Syria, Turkey, Greece, Rome, Norway, Ireland and Guatemala displayed phrases of love declarations, political ideals, and simple words of thought.  This is not so different from the need to express today's popular messages of social and political ideals.
Product Dimensions
183cm x 68cm x .5cm
Care Guide
Gently clean dirty areas with a damp towel, paying attention not to use too much water.  To remove stubborn stains, use a toothbrush and a small amount of diluted laundry detergent and gently work in a circular motion, then rinse or wipe away with a clean wet towel.  Lay flat to air dry, out of direct sunlight.
If needed, this mat may be dry cleaned.
Do not expose it to the sun for extended periods of time.
Do not immerse or leave water pooling on the surface for extended periods of time.
When storing, roll with the linen surface facing out.
Do not keep mat close to a heat source for a long period of time to prevent rubber aging and adhesion.
Your rubber mat may initially have a little smell.  This is the smell of natural rubber, and is eco-friendly and non-toxic.  If you are sensitive, please lay the mat flat for a period of time before using.