These feel as good as they look!

This beautiful yoga mat is truly a luxury.  All natural materials and eco-friendly manufacturing process (no chemical adhesives) means this mat is good for your practice, and for our earth.  It is bound in a colorful sewn edge.    At 5 mm thick, it is suitable for all practices but especially comfortable for more still forms of practices such as yin or restorative.  The linen top may initially have less "stick" than some other options, but after a handful of uses the linen will relax, achieving its "grippy-ness".
We love these mats and are proud to offer durable and eco-friendly products. Our mats contain zero PVC's or harmful chemicals and are 100% recyclable.  Read more about these sustainable mats below in "Product Information".

About our Designs
Namaste is one of the "Graffiti Series" designs (more info in the tab below) that features the warm spectrum of colors representing the foundational chakras of security, creativity, power and compassion.
"Namaste"  I love this word!  In traditional Hindu, and throughout much of the Indian sub-continent It is used both for a respectful greeting and farewell. 
It can be interpreted as meaning "I honor the place in you that is love, light and joy."  It is an expression of humility as well as a means of recognizing our "sameness" with one another.  It is selfless, literally having a root that means "not I", telling us to let go of self importance.
For me, Namasté represents the idea that we are all one. It affirms that beneath the outer trappings that make us appear different from others, we are all made of the same stuff. We are more the same than we are different.  When we recognize this, we can feel secure in our place in the world, freeing us to explore our creativity, and utilize our personal power and compassion to serve each other.
Product Information
We love these mats and are proud to offer durable and eco-friendly products.  They start with a base of natural rubber from the best Hevea rubber trees.  The rubber is collected (tapped) in a sustainable manner, not harming the trees and allowing them to mature and continue to produce the milky latex within the latex vessels in the bark.  While natural rubber (latex) may cause allergic reactions for some (Try our TPE mats as an alternative!), rubber is non-toxic, non-slip/skid, waterproof, stain resistant, durable, has excellent flexibility and cushioning, and is recyclable.  And because natural rubber is sticky when heated, our manufacturing process takes advantage of this physical feature to combine many types of surface layers WITHOUT the use of chemical adhesives. 
For our Hemp Linen top layer, we use a blend of hemp and linen (called flax), which are both sustainable and renewable.  These fibers are strong and smooth but become softer and more supple with use.  These fibers absorb moisture, are cool in summer and warming in winter, have antibacterial properties, are insect resistant, are biodegradable and do not fade.
At 5 mm thick, our linen topped rubber mats have a bit of "give" for comfort but are dense enough to ground and stabilize you during your practice.  These mats roll out and stay flat-no bunching or curling.

 Our mats contain zero PVC's or harmful chemicals and are 100% recyclable.


Our Graffiti Series: 
Graffiti is a true expression of the creator.  It can be bold, colorful, express passion, and convey deep held beliefs.  It can just be plain fun and whimsical.  It is a unique expression of how we see the world.
Although modern graffiti has been associated as vandalism or violence, graffiti itself is not a new phenomenon, or even unique to the United States urban landscape.  In fact, Ancient graffiti in cultures and regions as diverse as Egypt, Syria, Turkey, Greece, Rome, Norway, Ireland and Guatemala displayed phrases of love declarations, political ideals, and simple words of thought.  This is not so different from the need to express today's popular messages of social and political ideals.
Product Dimensions
183cm x 68cm x .5cm
Care Guide
Gently clean dirty areas with a damp towel, paying attention not to use too much water.  To remove stubborn stains, use a toothbrush and a small amount of diluted laundry detergent and gently work in a circular motion, then rinse or wipe away with a clean wet towel.  Lay flat to air dry, out of direct sunlight.
If needed, this mat may be dry cleaned.
Do not expose it to the sun for extended periods of time.
Do not immerse or leave water pooling on the surface for extended periods of time.
When storing, roll with the linen surface facing out.
Do not keep mat close to a heat source for a long period of time to prevent rubber aging and adhesion.
Your rubber mat may initially have a little smell.  This is the smell of natural rubber, and is eco-friendly and non-toxic.  If you are sensitive, please lay the mat flat for a period of time before using.
Customer Reviews
16 September 2020
Anonymous
United States
I recommend this product
My mat !
It's beautiful ... the smell of the rubber is overpowering with breathing technique during practice and am hoping it fades. Other than that it's a wonder , beautiful comfortable mat ! ♥️‍♀️♥️
20 September 2020
My Yoga Essentials
Thank you for your review. Yes, the natural rubber smell will fade with use. To speed this process, unroll your mat in a well ventilated area and leave it for a day or two. This should alleviate the "new" smell and leave only a mild, natural scent. You may also be able to neutralize the scent you find objectionable by lightly spritzing the surface with a hydrosol, or dilute solution of essential oils.
10 September 2020
barbara g.
United States
I recommend this product
Namaste Hemp and linen mat
I have not yet gotten to try out my mat in the studio, but I can tell it is excellent quality. After doing a few poses at home, I found it to have excellent grip. It has beautiful colors and excellent structure.
12 September 2020
My Yoga Essentials
Thank you for your kind review. Enjoy your new yoga mat!
13 July 2020
Lider I.
United States
I recommend this product
La amé
Amo todo de esta mat, la calidad, el diseño, el grosor. Todo es perfecto para mí. Además el sólo hecho que sea de caucho natural la hace mi mat favorita de todos los tiempos.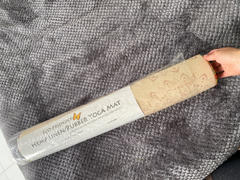 13 July 2020
My Yoga Essentials
Gracias por sus palabras muy amables. Estamos orgullosos de nuestras colchonetas de yoga. Estamos felices de que el tuyo te traiga tanta felicidad.
11 July 2020
Shavon M.
United States
I recommend this product
I LOVE THIS MAT!!!!!!!!!!!
I don't know how this mat found me, but I'm glad that it did! As soon as I saw its picture (and the description) on Facebook, I knew that I had to check it out! The company contacted me RIGHT AWAY so that I would know when to expect delivery, and it was delivered as promised. The mat is a little lighter (in color) than what it appears to be in the picture, but that didn't detract from its attractiveness. I wasn't sure exactly what to expect from the material (as I've never had a Hemp Linen and Natural Rubber Luxury mat before) but I couldn't be more pleased! It's soft, has a good weight to it and LOOKS like someone put a lot of love into crafting it. I can't wait to do my first asana on this mat!
11 July 2020
My Yoga Essentials
Thank you for your kind words and review. We are so excited that you love this mat as much as we do! We have some fun new styles coming soon for this mat as well so stay tuned...
10 June 2020
Anonymous
United States
I recommend this product
Amazing
This yoga mat is beautiful and has so much cushion, and grips nicely..no slip.
11 June 2020
My Yoga Essentials
Thank you for your great review. We are so glad you love our yoga mat and hope you enjoy it for years to come!